He Loves Me!: Learning to Live in The Father's Affection (CD-Audio)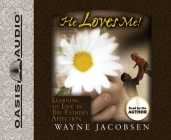 $22.99
Email or call for price.
Description
---
Do you find yourself picking through circumstances like children plucking daisy petals attempting to figure out whether or not God loves you? If you find yourself least certain of his love in those critical moments when you most need to trust him, there is hope for you. Where? At the one event in human history that forever secured your place in the Father's heart—the cross where Jesus allowed sin and shame to be consumed in his own body so that you could freely embrace a relationship with his Father. There you will discover that what he always wanted was not the fearful subservience of slaves, but the loving affection of sons and daughters.
About the Author
---
Wayne Jacobsen wanders the world helping people sort out how to live deeply in the life of Jesus. Formerly a Contributing Editor to Leadership Journal, he has written numerous books on spiritual intimacy and relational church life, including So You Don't Want to Go to Church Anymore, under the penname Jake Colsen. You can find his other books, blog, and articles at lifestream.org, and his weekly podcast at thegodjourney.com. He resides in Moorpark, CA with his wife Sara.
Praise For…
---
"Understanding God's love requires not a classroom lecture but a long bath. In He Loves Me, Wayne Jacobsen fills the tub and invites us to soak in real life, the inner life of the Trinity. 'What Really Happened on the Cross' is worth reading five or six times, then sinking quietly and deeply into its life-giving water."-Dr. Larry Crabb, author of The Papa Prayer, SoulTalk, and Shattered Dreams

"For those of us who are longing to 'live loved', I cannot recommend a better follow-up to The Shack than this book. It is an exploration and adventure into the heart of the God we hoped was truly there, and who loves each of us in particular with an everlasting love."-William Young, author of The Shack

"The author explores how to increase one's confidence in God's love. He compares doubters to children "plucking daisy petals," who believe that their suffering means that God doesn't love them. With subtle humor, Jacobsen says to "toss that daisy aside." Using seamless narratives and a rich vocal presentation, he points the way to an intimate, vibrant relationship with Christ that begins at the cross with free will and choice. His powerful narration contrasts guilt with the intimacy and affection freely offered by God. Deep faith, he says, recognizes the eternal choices of heaven or hell. Comparing life to Monopoly, he admonishes listeners to choose wisely and to use their "Get Out of Hell Free" card." 
G.D.W. © AudioFile Portland, Maine