Dreaming of More for the Next Generation: Lifetime Faith Ignited by Family Ministry (CD-Audio)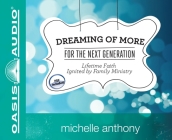 $22.99
Email or call for price.
Description
---
It's Monday morning. Are you wondering if your ministry to kids at church yesterday made any difference at all? With a fresh approach to spiritual formation in the lives of kids and their families, this audio book will reawaken your passion for ministry and give you new vision for what is most important in the lives you shepherd. Dr. Michelle Anthony shares stories that will inspire you and provide the tools you need to: • Partner with parents to equip them as spiritual leaders in their homes. • Motivate children and teenagers to step out of their comfort zones and into a lifetime of faith. • Create intentional space for the kids in your care to meet Jesus. Dreaming of More for the Next Generation is not program-driven—it encourages you to be Spirit-driven as you minister to kids and their parents.
About the Author
---
Dr. Michelle Anthony is the Family Ministry Architect at David C. Cook and Family Ministry Ambassador for ROCKHARBOR church. She is the author of The Big God Story and the Spiritual Parenting book and DVD curriculum, and the coeditor of A Theology of Family Ministry with her husband, Dr. Michael Anthony. Michelle earned her doctorate in Educational Leadership from Southern Seminary and has over twenty-five years of church family ministry experience.
Praise For…
---
"After 25 years in Christian ministry, Dr. Michelle Anthony developed a "parent-powered" family-friendly approach that nurtures authentic faith. In this refreshing new construct she emphasizes the importance of the Holy Spirit as teacher—with parents the primary instructors, not the church or Sunday school. Her expressive voice describes practical, creative ideas that encourage and motivate children and teenagers to "listen for" the Holy Spirit's guidance. Her speech is warm and rhythmic as she uses stories that reflect today's issues to illustrate encounters with the Holy Spirit. Children and families learn to "flex their faith muscles" with this new tactic, supported but no longer controlled by the church." 
G.D.W.  © AudioFile Portland, Maine