How to Ruin Your Child in 7 Easy Steps: Tame Your Vices, Nurture Their Virtues (CD-Audio)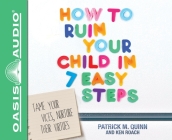 $19.99
Email or call for price.
Description
---
Will You Give Your Children a Legacy of Life?

In a world where parenting advice shifts faster than fashion trends, this "how not to parent" resource takes a fresh look at how the seven deadly sins are the root of most modern parenting mistakes.
 Through humorous stories and practical biblical wisdom, Patrick M. Quinn and Ken Roach show how wellmeaning parents can ruin their children's lives in seven easy steps (wrath, greed, envy, lust, sloth, gluttony, and pride).
 Quinn and Roach then offer a new counterapproach — laying a seven-fold foundation for lasting significance where parents can help rescue their children's hearts . . . and futures.
About the Author
---
Patrick M. Quinn is the teaching pastor of the 8,000 member Frazer United Methodist Church in Montgomery, Alabama. He holds a bachelor of Science from Florida State University and a master of divinity from Emory University, Chandler School of Theology. Patrick and his wife, Rachael, have three children and also serve as foster parents.

Ken Roach is the director of content development at Frazer United Methodist Church. He is also husband to Emily and father of four. He holds a bachelor of communication from Auburn University Montgomery and is studying for the master of divinity at Asbury Theological Seminary.